Spiritual Retreats in Australia
What is a Spiritual Retreat?
A spiritual retreat is a dedicated time for reflecting inward and finding out what really matters most to you. It is about tuning into your inner voice away from the clutter of everyday life and busy schedules. Spiritual retreats can range from being quite passive (not much of a program involved but enough space and silence to open up your inner voice) or they can be quite active in that the exercises and program are designed to speed up and invigorate your connection to your spirit. Rezinate Spiritual Retreats lean more toward the active aside as we feel many people do not have the tools or abundance of time to sit for days and find answers in a solo fashion. We have designed the perfect balance of stillness and activity designed to support you to make breakthroughs that would probably not happen on your own. However, we also design your days so you feel the fun and inspiration of a normal holiday. Hence the name of our spiritual retreats in Australia – called Healing Holidays.
Why our Spiritual Retreats in Australia are unique?
Following on from the above, we design our retreats to flow between the state of yin (reflection and space to ponder your deepest needs) and yang (actions and a-ha! moments where you can make immediate intuitive decisions about life). We have a customized 4-day sequence starting with unwinding, then moving into Shadow work (releasing our baggage and darker thoughts), followed by grounding and earthing to get you out of your head and into your body, then into 'recreation' where you dream up and set a new contract with yourself. Finally, we end with the 90-day Wellness Plan to take back your dreams and ideas into everyday life by translating them into a personal plan for you. This mix of inner reflection and tangible outer action has been a huge success and people say that they leave with clarity and loads of energy. Some of our clients have changed jobs, written books, and repaired relationships from our 4-day signature retreat.
Thank you for a great retreat and time away from my regular life. This was embracing and time well spent with total strangers who were warm, welcoming, and kind. I really enjoyed the space, the air, the food, and the whole experience. For such a short time, it felt I'd been away longer and that really recharged my batteries.
- Amanda, Sydney
 

Why is a spiritual retreat different from a weekend getaway?
Many weekend spa retreats and getaways are popping up in Australia to assist people with stress release and more. This is great news. There is a time and a place for a luxury and peaceful getaway to reset the tired mind a bit. We designed our spiritual retreats in Australia to be more than that. We wanted people to find a deeper sense of transformation; to be inspired to make longer-term changes and to receive the tools, ideas, and experiences that make a lasting and healthy change. Plus, we wanted to offer something unique and personal. People bring a challenge to our spiritual retreat and not only does the 4-day program allow immersion and healing of that challenge, but clients also have (included in costs) a one-on-one healing session with both Debbie and James Pask (retreat facilitators and owners of Rezinate).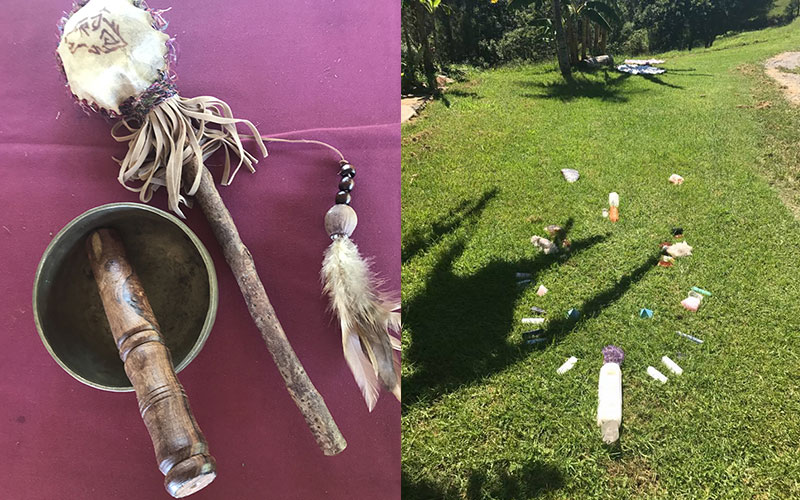 The activities, program, and sessions are inspired by Debbie and James' vast experience and training in the fields of energy psychology, Energy Healing, Personal and Performance Coaching, Meditation teaching, MetaphysiCAL Shamanic teachings, and more. With a combined 40 years of experience in the personal wellness and energetic healing fields, Debbie and James bring a huge and broad amount of wisdom (both modern and ancient) to the spiritual retreats in Australia.
Read more about Debbie or James here  
What do we do at our spiritual retreats in Australia?
Based on our 4-day program of unwinding, release, ground, and recreate – we weave in experiences that include fire meditation and ceremony, Medicine Wheel meditation journeys, visit to the sacred waterholes in the foothills of the Dorrigo mountain range, personalized healing sessions, horse riding through rainforests (optional thrill!), daily teaching and reflection activities, massage and more. Coupled with a wellness whole food menu, a retreat location that includes sustainable goats, and a sacred stone circle, we know you can't help but heal from the inside out.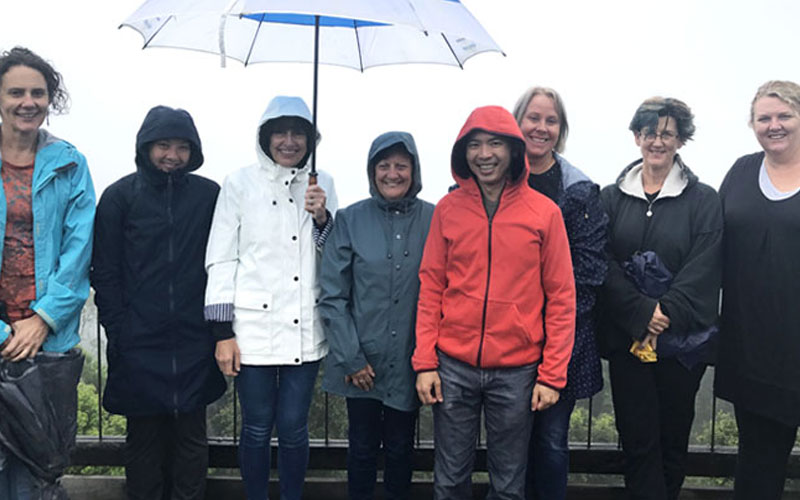 Reasons why people normally attend our spiritual retreat:
There are lots of reasons people choose to attend our spiritual retreats in Australia. Here are some common ones: 

Going through a big life transition and need time away to reset, think and come back to myself.

Time away just for yourself from the strains of a busy city.

Inspiration and momentum to achieve an important life goal.

Challenging relationships issues – at work or home.

To make a long-term lasting personal change.

Love of nature, spiritual connection, and peacefulness – this retreat has it all.

To receive healing from Debbie and James who are master practitioners and have done thousands and thousands of transformative sessions.

Simply to have 'me time' – important for busy mothers.      

If you think this kind of spiritual retreat is for you, please get in touch.
With light,
Debbie & James Pask