MASTER YOUR INTUITION
Learn how to switch on your Spiritual superpowers
in this self-paced step-by-step online course.
Imagine what your life would be like if you were at the right place… at the right time…so that the right opportunities presented themselves to you.
This course can help.
Master Your Intuition is a six-week guided program led by renowned spiritual healers and teachers, Debbie and James Pask.
Together, they share their 40+ years of collective experience and training in the field of Intuition Mastery so you, too, can easily switch on your intuitive powers and connect to your inner wisdom.
There has never been a better time for you to begin intuitive training so you can feel confident, clear, and calm.
That's why we are offering you this six-week online course for only $395 (normally $595) because collectively we can make ourselves, and our world, a better place.
Being "in tune" with your inner wisdom enables synchronicity to show up in your life.
When you MASTER YOUR INTUITION, you truly can LIVE YOUR BEST LIFE!
Who is Master Your Intuition for?
⚘ If you are a beginner or have never had any type of spiritual training or awakening, then you will find our step-by-step processes for developing psychic abilities and intuitive development easy to follow. The exercises are easy to practice and will help you feel grounded in day-to-day life.
⚘ If you are more advanced and have completed other intuitive courses, our Master Your Intuition program will help you up-level your intuitive skills. Why pay a psychic to help you make decisions, when you can develop and hone your own spiritual gifts and become your own oracle?
When you tune into your intuition (your spiritual superpower) you can:
Make decisions easily with clarity and confidence

Develop powerful daily practices to stay in flow and alignment with your true purpose

Learn good energy boundaries so you don't take on anyone else's negative baggage

Find and hone in on your individual X-Factor

Uncover your purpose and follow your true path

Reconnect with your true self.
Some of the intuitive senses we explore in the course are:
⚘ Clairvoyance: means clear vision or clear seeing using psychic senses (or abilities) or extrasensory perception (ESP). People blessed with Clairvoyance know things that they 'shouldn't know' about events, people, and other matters. You'll be developing psychic abilities as the course progresses.
⚘ Clairsentience: means clear feeling. Clairsentience is the gift of being able to feel people's current emotions, as well as their emotions in the past and future. Some clairsentients pick up emotional energy from physical objects and places. Your skills will improve as you carry on developing intuition during the 6-week course.
⚘ Clairaudience: Clairaudience means clear hearing. Clairaudience is the ability to hear psychic messages; messages with a purpose to guide the behaviour of others. For example, the voice of a grandmother guiding her granddaughter through a difficult life decision. The exercises in intuitive development will strengthen this sense if this is where your talent lies.
⚘ Clair empathy: translates into clear sense or clear emotional feeling. People with clair empathy experience exactly the same feelings as others; for example, severe stress before a business meeting. They can also take on physical feelings of pain or comfort. Developing psychic abilities in this area will enable you to help others as you have literally walked a mile in their shoes.
⚘ Clairalience (smell): translates into clear smelling and it is the psychic ability to smell scents or fragrances. For example, smelling granny's favourite biscuits when passing her favourite bookshop could mean she's trying to give you a message. Developing intuition in this area can contribute to your inner peace and the peace you can potentially give others.
⚘ Clairgustance  (taste): means clear tasting and it is the psychic ability to taste the physical energy of physical objects (food, flowers), as well as intangible energy generated by emotions or events. For example, a food smell could indicate something lacking in someone's diet; a floral scent could let you know in advance that your parents are coming to visit.
⚘ Psychometry/ Clairtangency (touch/object): Clairtangency (psychometry) is clear touching. It's the gift of receiving information by touching objects, people, and animals. For example, helping someone to take off their jacket may inform you about a health problem they are hiding from others. Developing intuition in this sense enables you to provide (tactful and subtle) suggestions to people who need a push to take action.
⚘ Claircognizance (clear knowing): People blessed with Claircognizance experience sudden pops of knowledge or flashes of insight. Sometimes the knowledge is like a premonition and sometimes it's a gut feeling that they know to be right.
 In this six-week e-learning Intuition Mastery Training Course, we teach you the principles of psychic development and how these relate to the psychic senses above. You'll learn how to harness these spiritual gifts, and how to tap into your inner wisdom so you can practically apply to everyday life situations.
People often tell us they quieten the voice inside their head that says :
"Something doesn't feel right"
"I don't know what to do"
 "This doesn't feel like me"
'Don't date or marry that person"
"The right path forward isn't clear".
They say, "It's just the fear talking. Just feel the fear and do it anyway". 
It's time to stop quietening your inner voice.
It's time to pay attention.
We teach you to trust your own spiritual gift and develop your intuitive thinking instead of listening to fear and doubt. When you learn how to truly connect with your intuition - your innate spiritual superpower – you can utilise this gift to its full potential. 
The lessons and intuitive training exercises in the course will give you clarity, purpose, alignment, and confidence, and guide you in every decision and life experience you come across.  Join thousands of our past students by enrolling in our Master Your Intuition online course so you, too, will be able to trust yourself in the decisions you make for your life going forward.
"I love your course I have gotten a lot more understanding and clarity on working with my spiritual talents."
Terry
" Powerful as always."
Kim
"Just finished module 5. This module is important to me…
…Soon I get rid of the negativity from my home, this module will my top priority."
Frank
🜂 Tap into your INTUITION 🜂
Intuition means being in tune with flow and ease in your life.
Developing your intuition and learning how to be your own oracle means you retain your confidence and power to make decisions in life. It also means that you set yourself up to be in flow with universal rhythm and can tune into your X-Factor.
Intuition training teaches you how to use your natural birth right senses, access your internal guidance system, and connect to your real self and your true nature. Teaching methods include guided meditation, mindfulness practices, and lessons in manifesting your metaphysical mind.
When you learn to use your spiritual gifts to guide yourself and stop letting others guide you, you tap into your inner wisdom and make the right decisions for you, and for your spiritual and physical health and well-being. You stand in your own truth and, as such, are the most qualified person to make critical decisions for you and your family in matters of health, wealth and more…
We practice and teach the notion of self-guided messages. We don't call anything outside of ourselves in, and we don't worship anything outside of ourselves. We believe we are powerful and free beings who are more than capable of leading and choosing our course.
Master Your Intuition Course covers:
Introduction to Intuition 👁
We discuss what intuition is, how it works, and why it's so critical for our evolution. We also introduce the eight Key Intuitive Skills that serve as the foundation for your psychic development over the coming modules
Intuitive Body Guidance
We apply the idea of intuition to the inner workings of your body so you can better connect and communicate with your physical body. In this way you can use your spiritual gifts to heal yourself from the from inside out.
Intuitive Decision-making
These lessons will teach you the art of making life decisions with clarity, allowing you to move away from stress and into intuitive calm and clear knowing.
Intuitive Relationship Boundaries 
Tuning into and reading the energy vibes that affect your personal relationships. Training in this aspect of your intuitive development enables you to manage boundaries with others so that you stay strong and powerful. 
Conversing with your Intuitive Mind
Practice the art of deep communication with your higher or metaphysical mind to improve your "self-talk", to stay in balance and to hold your shape when the world around you crashes.
Intuitive Visions and Goal Setting
Establishing a connection with the quantum field and aligning your goals with your true path and purpose (being in right place at the right time).
+++ Program Bonuses ++
Bonus #1 Cutting Energy Cord Meditation
This audio meditation track is a must have when you feel stuck and glued to someone else's energy and bad vibes. It helps restore your energy and send theirs back to them to deal with.  Guided meditation sets your true self free!
Bonus #2

Sacred Time Management Video Series
We know that life is busy and it can be hard to make personal time to nourish yourself. This video series includes lessons teaching you exactly how you can make the time and commit to it so your whole life runs more smoothly. Debbie's corporate background combined with her spiritual teaching will show you a whole new way of carving out your sacred time in a busy life schedule.
What materials are included:
6 x 90min Pre-recorded video and audio Teachings & Trainings to watch at your own pace.


Weekly activities and practice exercises, including 18 guided meditations and 23 intuitive practices to hone your intuitive skills.

BONUS Cord Cutting Meditation to assist with letting go and tuning in.

BONUS Sacred Time Management Video Series to help you make space in your life to connect with yourself and intuition again.


Access to resources for the lifetime of the program.


Private Facebook Group access for conversations, connection, and Q&A

Inside the  program, we will teach you the foundations and spiritual framework you need to connect to and switch on your Intuitive Super Powers to use in everyday life!
Throughout this course, we pass on our 40+ years of training, teaching, healing, and spiritual intelligence, putting you in the driver's seat of your life, to once again feel confident, calm, and knowing.
Using this intuition mastery training, you can create long-lasting and positive changes in your life by building a powerful relationship to the innate spiritual intelligence within you, also known as your energy field. This knowledge is taught in a practical, easy to digest and grounded way so you can begin to practice straight away.
After the Master Your Intuition program, 


you'll be equipped and ready to:

Make decisions, and life direction becomes super clear and obvious.
Make smarter life decisions. Reveal your life's purpose and use your psychic senses to clarify the direction in which your life should be heading.
You start meeting better quality people who match your wiser vibration.
Start meeting the people with similar inner wisdom and who match your wiser vibration
You gain confidence on your life path and learn to trust yourself authentically.
Gain confidence on your life path and learn to trust your Clairaudience, Clairsentience, Clairvoyance, and other spiritual gifts authentically.
Your boundaries with others get stronger and you attract less drama.
The right opportunities present themselves as you are more inflow with the larger cosmos.
You can tune into your body and start the healing process.
Tune into your body and start the healing process, including manifesting your higher or metaphysical mind.
About us
Debbie and James Pask are specialists in spiritual healing, spiritual teaching, energy healing, and transformation through the development of psychic senses, including Clairvoyance, Clairsentience, and Clairaudience. Together they have over 40 years' experience in the fields of intuitive, spiritual, and psychic development, using techniques that include mindfulness, meditation, and manifesting metaphysical health.
They are teaching spiritual intelligence and developing psychic abilities for years and have been able to invest the inner wisdom they gained into their intuitive courses so that you can immerse yourself in them whenever you need them, from wherever you are in the world.
Using this intuition mastery training you can create long-lasting and positive changes in your life by building a powerful relationship to the innate spiritual intelligence within you, also known as your energy field.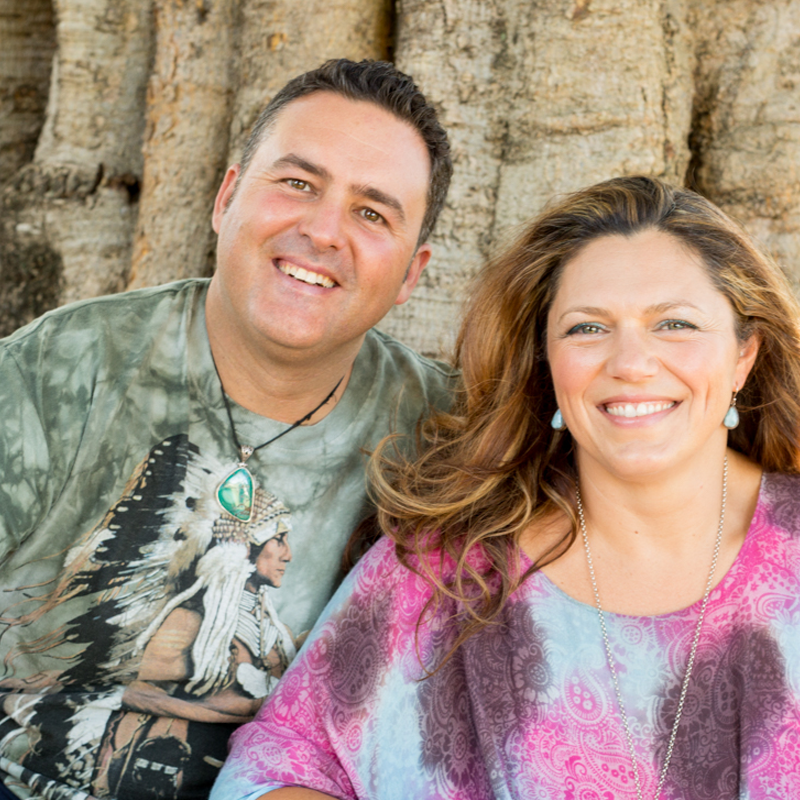 James Pask is a Metaphysical teacher and Holographic Kinetics Practitioner. His passion is to restore the relationship between your mind, body, and spiritual consciousness. His natural talent for developing intuition and spiritual gifts in others is obvious to all who enrol in Rezinate's courses, especially the intuitive courses and spiritual courses.
The results of new metaphysical and psychic development studies are published all the time, and James is excited to keep abreast of the evolution of the field.
Debbie Pask is a Transformation Coach, Trainer and Deep Energy Healer. Combined with a background in Advertising at board level, a degree in Philosophy and 16 years training in Energy healing work, Debbie Pask is an example of how the rational and intuitive can come together to create a stronger approach to business.
Debbie is passionate about using intuitive training to help people unlock their purpose in life. Following this intuitive insight, she helps with manifesting their business dreams through clear planning and consciousness development.
Debbie and James have used their 27,000+ sessions to create training courses that focus on the development of spiritual gifts and meditation practices which enable you to enjoy a calm life connected to Mother earth.
"On every level James is assisting me with my growth on a spiritual level. James is one of the most talented, giving, humble, sincere and delightful people you could ever wish to have come into your life to assist you on your path of spiritual growth and happiness. "
Sue Carrol
"Two amazing down to earth healers that truly help you release "old baggage" & awaken to your own personal inner strength!... Thank you!"
Izas
"Debbie is a gifted spiritual healer. She has immense passion and insight when delivering workshops and healings. She is warm, giving and loving and has an amazing gift for making the world a better place."
Jackie Nugara

FAQ
1.How long will each module take to complete?
The video training weekly class is 90 minutes. You will have practice sessions that will apply to everyday life which will take anywhere between 20 to 60 minutes to do. You may repeat this practice as many times as you like and revisit it later down the track.
2. How long will the content be made available?
Your course will be available all the time with your unique LOG IN. There is no time limit. You can access your lesson at any day and time you want.
3. What if I have questions or get stuck with the lessons?
Simply write down your inquiry and questions on the comment box found at the bottom of each lesson page OR, post your question in the private FB group that you will be invited to once you sign up. You can also share ideas and your practices with other like-minded souls.
4. What If I cannot access my intuitive self?
Everyone has access to these skills and it might take some time to develop. We promise that if you follow the advice we provide, you will notice changes and start to tune in more every week.
5. Who is this course developed for?
This course is aimed at any level as the concepts are unique and cutting-edge. If you are a beginner, your mind will be expanded in enormous ways. If you have dabbled or regularly tune in to your psychic self, then expect some new material that will stretch you in new ways. The combined experiences of Debbie and James with over 40 years of training between them will give you a deep understanding of this realm.
6. Does this material conflict with any religions out there?
Our lessons are spiritual and yet NOT religious. We don't pray to anything outside of ourselves and we don't challenge your personal spiritual beliefs. We believe that you are source energy and therefore have access to innate intelligence – spiritual senses that go beyond the physical. We teach you how to find these senses within YOU and we don't refer to any religion, gods, goddesses, or deities.
"JAMES & DEBBIE ARE EXTRAORDINARY HEALERS.

Healing happens fast when you work with their meta-physical skills."
Emma Scott
"James Pask is an amazing individual and a very compassionate healer. His readings are incredibly accurate and very comprehensive..."
Kanchi Williams
"Debbie is an oasis of confidence, empowerment, and love. She not only helped me focus my career goals and feel amazing about them but she helped me realize my full potential and why I had been holding myself back from achieving it. "
Kristine Leigh
Master Your Intuition
Learn how to switch on Your Spiritual Super Powers in this self-paced Intuition Mastery Training Course.
ENROLMENT INCLUDES
6 x weekly 90min Teachings via Video and Audio
Weekly activities and practice exercises, including 18 guided meditations and 23 intuitive practices 
Private Facebook Group access for conversations, connection, and Q&A
BONUS Cord Cutting Guided Meditation
BONUS Sacred Time Management Video Series
Access to resources for the lifetime of the program.
GET INSTANT ACCESS NOW
"James' knowledge of metaphysics and ability to communicate that knowledge in an accessible way is fantastic. James shares his knowledge and skills with generosity and warmth, giving practical examples and ways to incorporate metaphysical principals into everyday life. James is a teacher who really walks his talk with the greatest of integrity."
Leander
"I have found that these activities have clearly been working because I noticed that my dreams and realisations coming up from the subconscious following some of the meditations and brain storming activities is helping put some puzzle pieces together and further release stuck things"
Makensi
"Thank you James and Debbie for the journey and your vision. The course as a whole was a nice step by step of balanced understanding."
Gurudhan