Debbie Pask
transformation coach, trainer, and deep energy healing
With a background in Advertising at board level, a degree in Philosophy and 20 years training in Energy healing work, Debbie Pask is an example of how the rational and intuitive can come together to create a stronger approach to business. Debbie's core passion is to help people discover and unlock their own 'life purpose' and then go about planning and designing their utopian business around it.
debbie@rezinate.com.au | Contact at 0419 251 655

"I work differently to many other coaches and healers in that I integrate the intuitive and psychic work with the logical and material. That means that your decision making comes from a much more innovative and soul level; whilst your follow up plans are cemented in this world. Isn't this the way its meant to be?"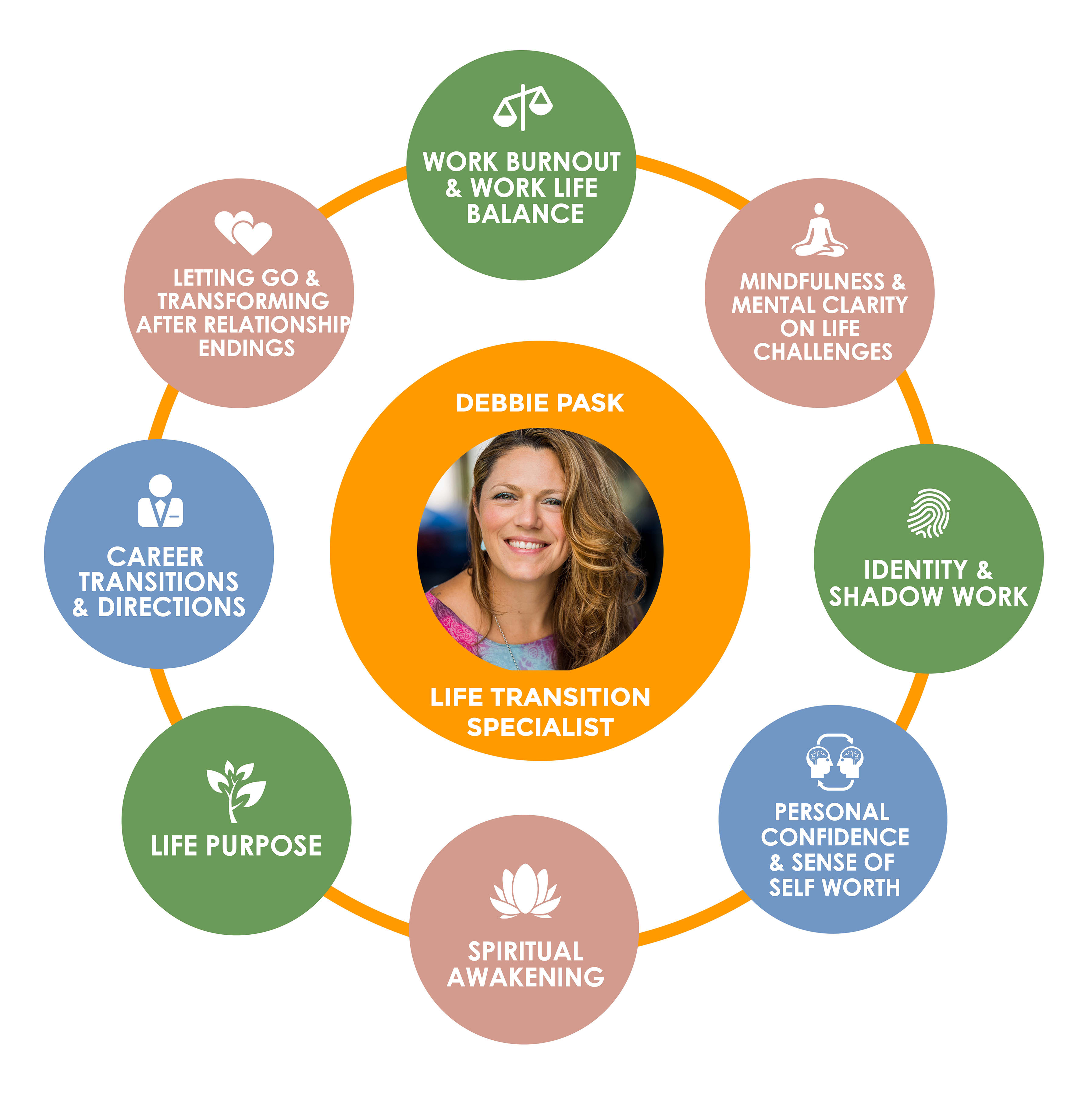 Tools and Processes Debbie employs:
Life Purpose Process
 Establishing your blueprint and purpose to live a better life
Yin and Yang balance work
To ensure any life decision combines both perspectives and you stay balanced in creativity and logic
Transitional shadow work 
Helping people death and rebirth old parts of themselves so that they can grow their inner power and confidence to make big leaps forward
Enneagram Work
Using the Wisdom of the Enneagram (Hudson and Riso work) – a psychological assessment of the 9 personality types to help understand yourself (your needs and fears) on a deeper and very personal level.
Energy Meridian Work
Using the ancient Indian knowledge system of the chakras (energy meridians) to link any mind-body effects of stress, conflict, and indecision.
Family And Systemic Constellation work
Using the 'knowing field'- access and heal deep subconscious patterns and limiting archetypes that were passed on by family systems and life experiences.
Mindfulness Techniques
Building awareness and alpha flow in everyday life to think, decide and act with more presence
Intuitive Problem Solving Tools 
Bringing chaos back to order and helping people become unstuck with indigenous and spiritual based resolution tools
ACT and Witness Techniques
Using ACT (Acceptance Commitment Therapy) and Witness/Observer tools to master the mental chatter and access a higher level of conscious thought.
Wealth Dynamics Profile
Using Roger Hamilton's dynamic profiling system to ascertain your easiest pathway to business success.
Business Consulting and Advertising processes 
Utilizing my vast career in business and advertising to structure, plan, vision and make commercial any career plans.
Numerology and Astrology

Using universal planetary shifts and numerical codes to help you better understand your own personality traits, behaviors and life transition.
Psych-K
Removing limiting beliefs from your subconscious mind through a cutting-edge technique as recommended by Dr. Bruce Lipton (cellular biologist) in his book "The Biology of Beliefs".
Meditation Therapy
Using my background of meditation and visualization teaching to help you focus, manifest and calm the mind using meditation therapy.
"Debbie is AMAZING!!! Her services were a gift from a dear friend and I have to admit it's the best and most relevant gift I have ever received. I went to Debbie with only one desire and that was to break out of my current career and find the career that would fulfill me; the career I'd be passionate about. I couldn't pinpoint what I truly desired in a career and I had no idea how to get there, or where to even begin. I was lost. From the first 10 minutes of my initial session with Debbie, I was so energized and excited by possibilities. In a world of so many "No's" and "I can't's" and negative self-talk, Debbie is an oasis of confidence, empowerment, and love. She not only helped me focus my career goals and feel amazing about them but she helped me realize my full potential and why I had been holding myself back from achieving it. Only A few months, and a few sessions, after my first meeting with Debbie, I am solidly on my ultimate Career path, as well as on the path to achieving my true purpose. She is an intuitive, strong, wise, empowering and supportive Professional who not only leads you to discern your career purpose but also strategically and realistically helps you achieve it! It's clear she has found her calling, now you just have to let her help you find yours!"

Kristen Leigh Conklin

Photographer, Artist and Humanitarian, United States, 2017

"Thanks, Debbie for the Reiki treatments recently. I came to you stuck in a place that was extremely difficult to shift by my self. I have tried many natural therapies over the last twenty years and rarely do I come across practitioners that are as skilled as you are. After our session, I felt immediate relief from a deep place, with our practitioners this may have taken many sessions. Your insights gained from our session were spot on and immensely helpful, my confusion and anguish have been transformed into clarity and peace. I can't thank you enough and will be definitely recommending you to others."

Richard Prince

"I always love my sessions with you for helping put me back in my body, gain some clarity around the issues I'm dealing with and lift any heaviness or stuckness around how to move forward."

Anita Toi

Coach and Healer, 2022
Qualifications and Experience
Bachelor of Arts Philosophy at Macquarie University

Family and Systemic Constellations Practitioner (work of Bert Hellinger) – Matt Dilges

Reiki Level 1, 2 and 3 + Masters (a form of energy medicine healing)

Psych-K Certified Facilitator

ACT (Acceptance Commitment Therapy) Certificate 1 day workshop

Kinergetics I and II (Kinesiology and Energy healing combined) – work of Phillip Rafferty

Enneagram Profiling - Advanced Level Training with Robert Bruce 

Harmonic Sound Healing incl. 9 chakras and 13 tones of creation (with Elvina Muir)

Meditation Teachers Training Intensive

Universal Mediumship Development classes

Advanced Shamanic Mediumship classes

Professional Reading Training

Don Tolman Weekend "Bootcamp for Brains" course
Certified Equine Therapy Coach - EAL @ Equine Psychotherapy Institute - Meg Kirby + Sue Lamond

Interspecies and Animal Communication – South Africa with Anna Breytenbach (see video on Spirit the black panther)

Sensory-Motor Art Therapy -Therapeutic healing (overcoming trauma)

Reiki Level 4 Teachers attunement

Certificate in Astrology (trained at Sydney Astrology School)

Certificate in 

Numerology – with Dr Neil Hair at Nature Care College

Russian DNA healing (Genome Healing) – based on Grabavoi and Petrov's work

The Journey Intensive with Brandon Bays

Shamans Shadow workshop (Leyola Antara)

Animal Communication workshop (Trisha McCagh)

Native American Indian Sweat-lodge ceremonies

7 years of Psychic and Trance Development Classes

Abundance Mastery Training
Corporate EXPERIENCE
2 x Companies sold – Adtopia Pty Ltd (2013) and Tick Boxer Pty Ltd (2014) – an online Advertising DIY tools portal

Wealth Dynamics Business Profiling (Roger Hamilton XL)

Enneagram Coaching - Advanced Level 

Career in advertising and operations – includes training, change management, public speaking, managing large teams, strategic plans, financial forecasting, and analysis etc.
Runners-up at Entrepreneur Business School (hosted in Bali 2006)

Board of Directors Position held at George Patts (international adv. agency) in 2003

Advertising Federation teacher – over an 8 Year period

Worked across both Dubai and UK as a business consultants

Coaching Entrepreneurs in over 8 Countries globally 
Get to know Debbie Pask
Favourite quote:
"You can never solve a problem from the same level of consciousness that created it" - Einstein


What drives me? 
Helping people to find CONFIDENCE, LIFE PURPOSE and MENTAL CLARITY. To tune into the absolute and immense power of their own Spirit and utilise their intuitive or higher mind. I love clarifying people's blueprints and life purpose so they can translate that into a serious career/business.


My quirky stuff:
Most indigenous cultures use animal totems (symbolism) to align their gifts with. I connect deeply with this idea and use this to develop my working style. Here are my three animal totems:

AIR/ Phoenix – rising from the ashes it symbolizes death and rebirth; a letting go of the old and transitioning to the new. I specifically enjoy transitioning people from destructive jobs or relationships – into a new phase of their life.

SEA/Whale – dreaming your own song or story; feel free to dream and create the things that bring you into flow and connect with the heart.

LAND/Cheetah – fast-paced and instinctive; the cheetah creates a clear focus or passion and bolts quickly in the direction of what is most crucial.
My element is FIRE. 
My approach is direct and powerful. I work quickly and aim to release what holds you back.

How can you work with Debbie?

Debbie Pask works across many life areas and is known as a Life Transition Specialist, Metaphysical teacher and Performance Coach. You can choose to connect with Debbie via private sessions, online spiritual programs, and resources such as meditations and books. Choose to have a one-on-one Personal Coaching session with Debbie to start your journey OR try a Business Performance Coaching session with Debbie to supercharge your career life. Get a copy of Debbie's meditation CD or Book to inspire you.
Zenful Business
11 Models for Flow & Peak Performance
Debbie Pask's latest book 'Zenful Business' gives you the 11 models and tools you need to access your inner zen.
Written for the open-minded and growth mindset professionals, Zenful Business will help you leap forward in how you think, feel and connect to your career.
"2020 was a year of considerable challenge and also a year of tremendous growth and awakening. I have been lucky enough to be supported by and still am by so many amazing humans. Debbie Pask from Rezinate/Zenful Business has been one of these humans. She has supported me in my business and spiritual journey, for which I am truly grateful.
I can highly recommend Debbie for 1:1 Business Coaching and her Spiritual Business Masterminds Group!"

Preeti Parmar

Coach, 2020

"Deb, thank you so much for your Zenful Business Book! I got so much out of how far I read, that I knew I really, really, really wanted to take my creative side more seriously, and do whatever it takes to move that out of just something I do for my own enjoyment."

Linda Bizon

"Debbie has been in my life for over 5 years and she has been life changing, she has guided me through the toughest times of my life and the happiest times. I can honestly say that my life would not be as meaningful as it is without Debbie providing me with the tools and guidance needed to help me make decisions. I have learnt so much from Debbie from a personal perspective but also from a business perspective, I am truly grateful for her gifts. Thanks 😊"

Zoe Koskinas

"Had a fabulous healing with Debbie, as was holding onto some past events & not feeling balanced. I'm feeling clearer more focused on myself and my direction. Love the home work Debbie gives you and information in the healing. It all really makes sense and easy to shift.
Thank you. I'll be back for more "

Victoria Prentice

2018