The Camp Eden Experience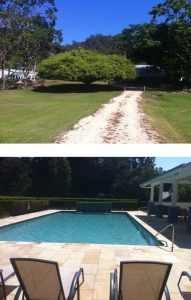 Earmarked as Australia's best Health Retreat, Camp Eden sits on the Aboriginal blessed ground in the Gold Coast hinterland about an hour north of Byron Bay. James and I decided to go for a week in October after our friend and fitness trainer recommended it to us. And… WOW… what an experience. I have never been somewhere so tranquil, so nurturing and so completely in tune with nature. Usually, holidays feel short and rushed, trying to squeeze everything in and never quite getting satisfied. Well, this experience blew apart any previous break I have had. You seem to lose time when you go there and every activity and every meal (prepared by naturopaths!) was all about YOU, your well-being, and your health. I felt like I was there for 2 weeks. From the Qi Gong that started at 6 am to the laughing yoga, cooking classes, kahuna massage, and the trips to the spa/sauna/pool and steam room… everything is designed to make you feel like a God/Goddess. Even the cleaners there are happy and divine! You can walk the labyrinth to problem solve, hang out under an ancient bamboo tree, sit in the dining room in the treetops… or if you want to face your fears you can try the flying fox, jump off a pole to catch a trapeze, or climb the 30-meter tree and free-fall off… here is a picture of me doing just that and what a rush it was!!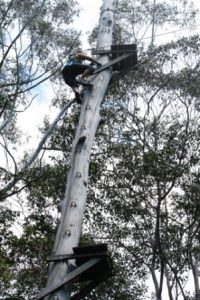 You climb up pegs on the tree, hang out in the treetops and simply fall off! You form a beautiful bond with others that attempt this amazing feat. So, why Camp Eden? Firstly, a good incentive is a cost! Rezinate clients get a 40%  discount if you book in October (can use the stay for up to 2 years). Just quote the code OCTOBER 007 when you book to get your discount. You might just need a good recharge. Perhaps you are ending a relationship and need a time out to re-assess. You might be looking to overhaul your health or need to deal with stress, anxiety, or burnout. You don't really need a reason though to get yourself back to nature, healthy whole foods and to have time out. This should be a high priority in your busy modern day life. Ahhh Camp Eden - I love you and I'm coming back next year for sure.